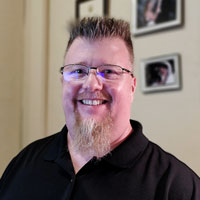 Rees Roberts
President and CEO
Corporate West Computer Systems, Inc.
Rees Roberts is an enthusiastic, high-energy technology buff.  There is little he enjoys more than working with machines and discovering exactly what he can make them do, and he has been doing that since 1998.
As President and CEO of CorpWest, Rees works closely with his partner in crime, V.P. Chris Harris, in steering the Company and clients to success.  As President of CorpWest Rees is responsible for overseeing all aspects of the company, but his main focus is on customer relations, sales and marketing. As a part of the system design team for the company, Rees helps research, develop, oversee and implement client solutions alongside the highly-trained team at CorpWest. Rees currently holds various certifications from manufacturers such as Cisco, Veritas and Symantec.
Prior to joining CorpWest, Rees spent thirteen years running IS Works, Inc. as President. As President of IS Works, Rees led many successful projects for companies such as The Monterrey Bay Aquarium, Ultratech, Serus Corporation, Alacritech, and many more. While at IS Works, his professional insight and experience was valued by many industry players like Cisco, Microsoft, Trend Micro, and Symantec. When presented with the opportunity to join CorpWest, it was a natural progression in his career.
Prior to working for IS Works, Rees consulted for a variety of corporations, such as Travelocity Business, The Gap, Franklin Templeton Investments, Exodus Communications, ArthroCare, and ILogistix.  His responsibilities ranged from domain administration to enterprise-wide security and rollouts of desktop platforms.
Before his career as an IT consultant, Rees spent several years as a tour manager and sound engineer for international jazz superstars and popular rock bands such as Stanley Jordan, Smashmouth and Papa Roach to name a few.  Although this was a very exciting career, Rees' interest in technology has brought him where he is today.  Being completely self taught in technology, Rees' excellence in his field is driven by his desire to make things work.  Due to his tenacity, whether or not he knows the solution readily, Rees will find a way to make it happen.
Rees lives in San Jose, CA with his amazing wife and three son's . He is active in serving the community around him through organizations like Beautifulday.org, and enjoys activities such as Playing Guitar, Oakland Raiders, reading, BBQ and, of course, tinkering.